Contact Dr. Zeitner
Richard M. Zeitner, Ph.D., ABPP
 Email: richzeitner@gmail.com
816-377-5651
Office Hours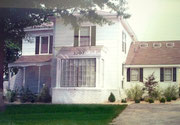 Office hours are Monday through Friday by appointment only. Please call the above number and extension leaving your name and number. Dr. Zeitner will return your call as soon as possible to discuss a time for your appointment.
Payment Options
You may choose to pay for services personally without billing your insurance carrier to more fully protect your confidentiality.
If you prefer to bill insurance we accept a wide range of policies. Contact your insurance carrier to see if our services are covered by your plan as an "Out of Network" benefit. If you remain uncertain about either using your insurance or whether you have coverage, we will gladly assist you in contacting your insurance carrier.
Directions to Office